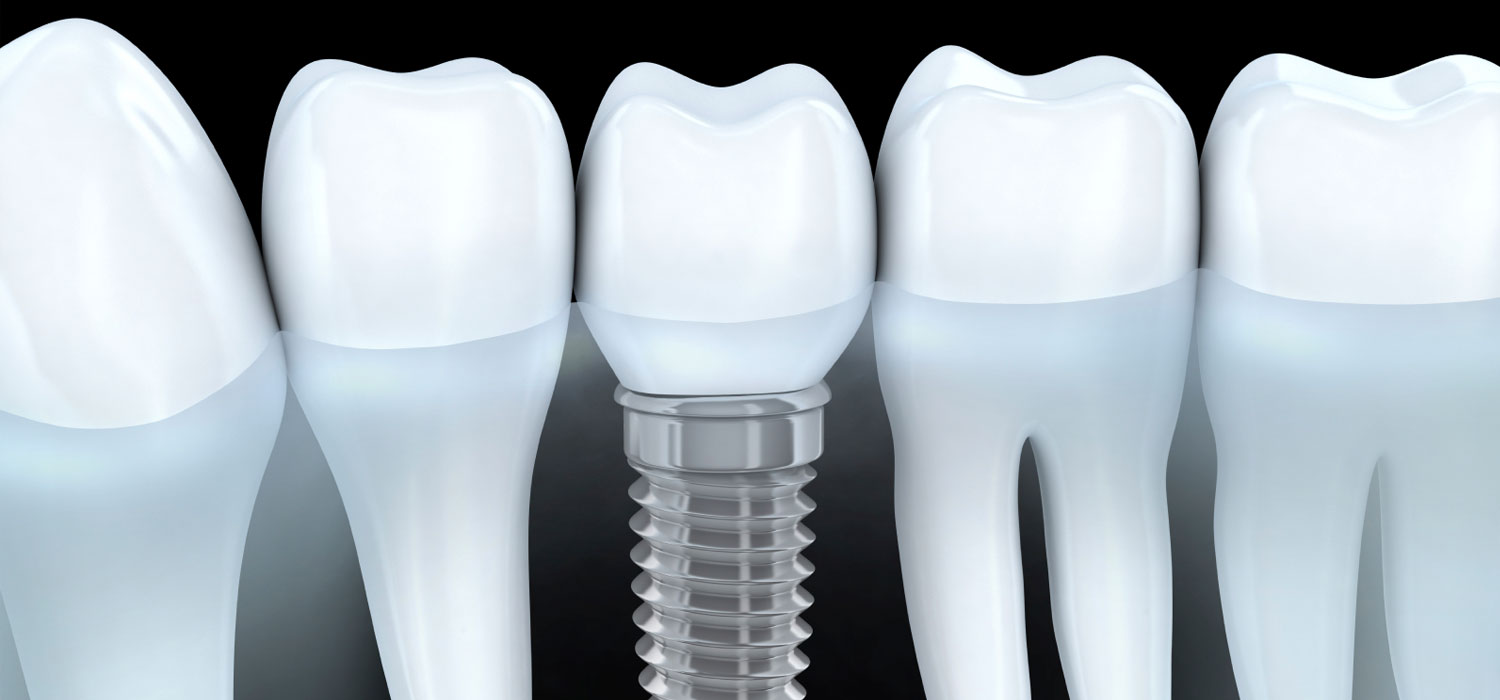 Dental implants to the rescue! A dental implant is a small titanium or biocompatible metal post inserted into your gums. It's secured into a socket in your gums where you are missing a tooth. This implant fuses to the jawbone tissue to become very stable and painless in the patients mouth. When it is not being used to support a natural tooth, the jawbone deteriorates. Dental implants are the only dental restoration option that preserves and stimulates natural bone. It actually helping to stimulate bone growth and prevent bone loss. As a functioning replacement root, the implant can support a single crown, or with a few implants could support a bridge or partial/denture. Although this procedure is expensive, it's well worth it in long run.
---
4 Reasons for Dental implants:
Stops your teeth from shifting into the empty space
Conserve your jawbone
Preserve your appearance and smile
Replace missing tooth
Can't afford dental implants? Call our Vancouver dental clinic and let's crunch some numbers to make this possible.
---
Dental Implant Maintenance
The daily care of dental implants is very similar to the care of natural teeth. Restored dental implants should be kept clean and plaque free twice a day using a brush and floss. Cleaning is especially important after meals. This is accomplished by gently brushing, giving special attention to all sides of the implant.Oral hygiene aids may include:
Small, soft, manual toothbrush or an electric brush
Low-abrasive, tartar-control toothpaste
Dental floss for cleaning around the abutments
Other supplies that may be recommended by the doctor can include:
Antimicrobial mouth rinses
Inter-dental brushes or other aids for removing plaque between the teeth on either side of the implant(s)
Disclosing tablets to stain the locations of plaque accumulation
You must be committed not only to the daily performance of dental hygiene at home but to regular visits to your dentist (Sunrise Village Dental Clinic in Vancouver, BC is currently accepting new patients). It is recommended that you see your dentist every 3-6 months for a professional exam and cleaning. The implant(s) should be examined with an x-ray annually.
What can happen if I don't take care of my Dental Implants?
Dental Implants can develop problems without consistent daily care. The earliest sign of a problem begins with the observation of bleeding. This is known as mucositis. The current scientific evidence suggests that this may be successfully treated and is reversible if caught early. Unfortunately, if it progresses to bone loss, also known as peri-implantitis, the bone loss is not reversible. If peri-implantitis is not treated it can lead to advanced bone loss and the removal of the implant.
What should my Dentist check for at every cleaning visit?
For an accurate assessment of implant health, dentists and hygienists need to probe and measure the gums around the implant the same was as around teeth, check and compare x-rays annually, look for looseness, check the bite and check all of the components that are attached to the implants to make sure that they are functioning properly.
---
Frequently Asked Questions About Dental Implants
Who should get dental implants?
Dental implants are not for everyone, but certain conditions and circumstances may make dental implants the better option:
Having more than one missing tooth
Having a jawbone that has reached full growth
Having ample amounts of bone to secure the implant
Having healthy oral tissues
Being unwilling or unable to wear dentures
How expensive are dental implants?
Dental implants require a significant investment but hold up over time to make the process worth the price. Surgical fees often cost $2,000–5,000 for a single tooth, on top of the price of required materials the procedure. However, ignoring the need for an implant costs much more over time. A missing tooth or prolonged use of dentures leads to bone and gum decay, while also exposing more surface area of the surrounding teeth to continuous wear and tear. Eventually, issues such as nerve exposure and bone loss cause increased discomfort for the patient. The corrective procedures done at this point are exponentially more painful and expensive for a patient. Dental implants prevent bone loss and allow patients to live a much more comfortable life.
Why do people choose dental implants instead of other options for missing teeth?
Dental implants are the most natural-looking and natural-feeling replacement for missing teeth. Unlike many other tooth replacement options, dental implants do not slip or click when talking, laughing or eating, making for greater confidence in social situations. Dental implants are also considered a healthy option because they help to maintain the jawbone, keeping the facial structure intact.
How long will dental implants last?
Dental implants last upwards of forty years if taken care of properly. They often last a lifetime for patients that regularly brush, floss, and follow the dental recommendations made at their check-ups. While a dentist cannot guarantee the long-term success of a dental implant, the dentist can provide guidelines and suggestions to better care for your teeth. These suggestions are based on proper hygiene procedures, your own genetic history (including diseases that run in your family), and your nutritional habits. Following the recommendations put in place by your dentist ensures the implant has the best chance to last the rest of your lifetime.
What Are Common Side Effects and Complications? What are the disadvantages of dental implants?
Dental implants are one of the most successful procedures in dentistry, with an average success rate of 95%. Dental implant failure occurs most frequently in heavy smokers, as the toxins and nicotine inhibit the body's healing process. In fact, the success rate for smokers drops dramatically, to 50-70%.
Like any minor oral surgical procedure, there is a risk of infection, inflammation, and pain, but your dentist will discuss how these can be managed for your specific situation. If there is no available bone to place the implant, then bone and gum grafting procedures may be required, which can increase the cost of your treatment. However, the upfront investment can pay off in the long term.
Does the body ever reject an implant?
Very rarely does a person's body reject a dental implant. The jawbone readily accepts the implant, and the few rejections that do occur are caused by rare allergies to the titanium alloy that makes up the implant. Another reason for implant failure comes from the patient's care after surgery. Without great oral hygiene, regular teeth fail and eventually fall out. A dental implant is no different. Taking care of your teeth, even the implants, prevents gum decay and structural failure in the long run.
What is the process for getting a dental implant?
Your dentist, who should be a credentialed dental implant expert, will place the implant into the jawbone. As you heal, your implant will fuse with your natural jawbone. Once the implant bonds with the jawbone, a small connector is placed on top of the dental implant to connect the implant to the replacement tooth or teeth.
What's the Recovery Time for Dental Implants?
The procedure happens in several steps: first implant placement and then the placement of the crowns. While the implants need anywhere from six to 16 weeks to secure in the mouth, there should be little to no downtime. You may feel mild soreness or swelling for the first few days, but these can be treated with over-the-counter pain medications and shouldn't affect your daily routine. Your dentist may also suggest a soft or liquid diet for a few days to a few weeks. Once the implants have healed, the crowns will be placed.
Does the surgery require time off?
Most people go back to work the day after the surgery, although it depends on your individual experience and the difficulty of the surgery. Some people prefer to take a day off to completely recover and allow their mouth to rest after the procedure.
How Do I Take Care of My Dental Implants?
Dental implants should be treated like your natural teeth, with daily brushing and flossing, and twice a year check-ups. Your dentists may suggest investing in an electric toothbrush and a water flosser. With the right care, dental implants can last a lifetime.