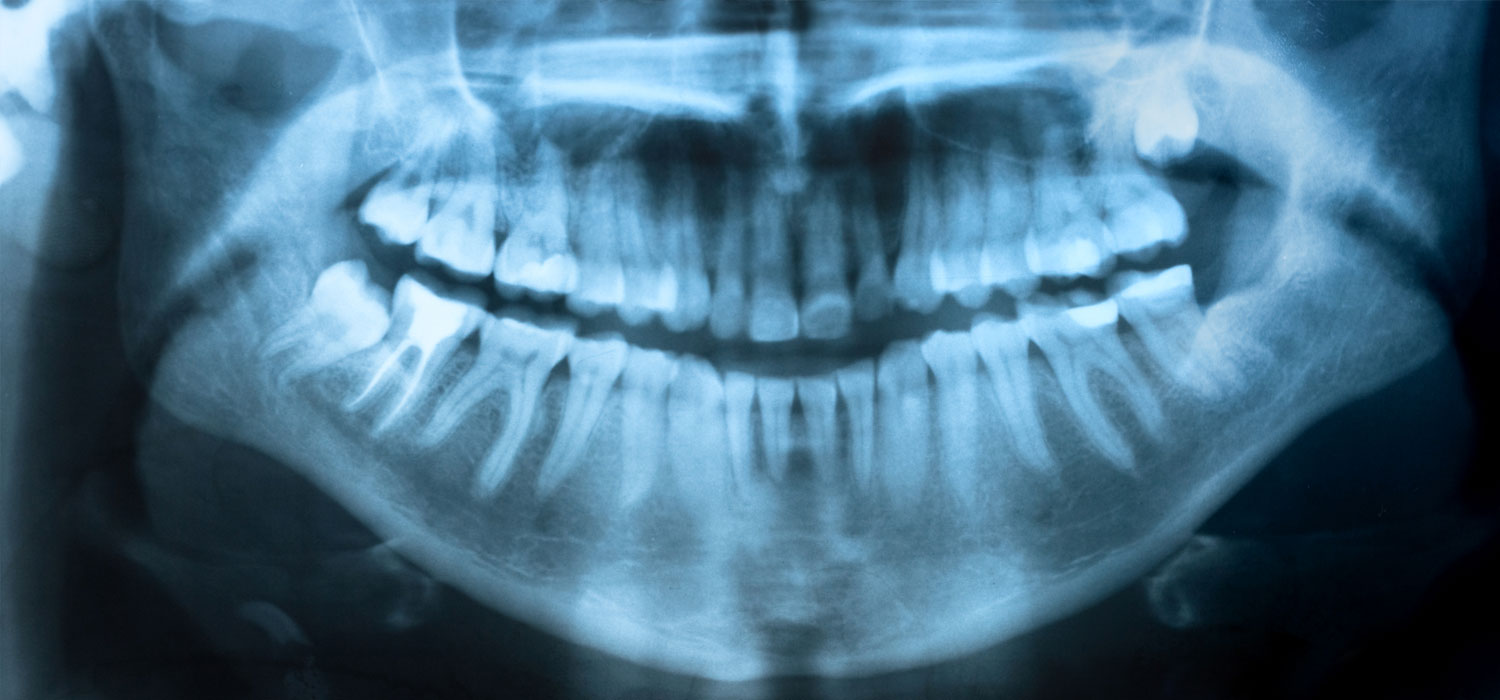 Either directly or indirectly, we are all exposed to natural radiation in our environment. Our digital x-rays produce a significant lower level of radiation compared to the dental x-rays of the past. Not only are digital x-rays better for your health, they're faster and more comfortable and reliable. We usually recommend a full mouth series for our new patients (good for 3-5 years) and bitewing x-rays, which are usually taken at the beginning of your regular check-up and cleaning.
---
5 reasons why we take X-Rays in our office:
Look for decay / cavities in between the teeth.
Check for bone loss associated with gum disease.
Check decay under old fillings.
Show infection at the very bottom of the root of the tooth.
Examine the area to be treated before procedures.
---
Frequently Asked Questions About X-Rays
1. What is Dental x-rays?
Dental x-rays are a form of imaging test that dentists use to learn more about the health of your teeth. A dentist can discover a lot about your teeth and gums simply by examining them with the naked eye. However, dental problems such as tooth decay and infections can often only be properly diagnosed by looking beneath the surface. x-rays use small amounts of radiation to create images on the film called radiographs. As x-rays pass through the mouth, they're absorbed by the tissue. Some tissue, as well as denser objects, absorb more x-rays than others. Teeth appear in lighter shades on a radiograph, while cavities and tooth decay show up in darker patches. These images help dentists to identify problems with the teeth.
2. What is Digital x-rays?
Digital radiography (digital x-ray) is the latest technology used to take dental x-rays. This technique uses an electronic sensor (instead of x-ray film) that captures and stores the digital image on a computer. This image can be instantly viewed and enlarged helping the dentist and dental hygienist detect problems easier. Digital x-rays reduce radiation 80-90% compared to the already low exposure of traditional dental x-rays.
3. Who needs dental x-rays?
Dental x-rays are just another tool in the oral care arsenal. The cleaning and visual examination of your teeth, gums, and the rest of your mouth serve to keep the exposed portions of your mouth healthy.
However, a lot can go on beneath the gum line or inside of teeth themselves that dentists cannot see without x-rays. While you might wonder why you need x-rays when there's no outward indication that something is wrong, this tool can provide early warning of potential problems (like small cavities), allowing for treatment before they become much bigger issues.
4. How often should patients get x-rays?
The frequency of x-rays varies by dental office and by the patient. Some patients may only need x-rays annually, while others need them every six months, or even more frequently, depending on developing conditions.
Frequency depends on the current condition of your mouth and your dental history. Do you frequently get cavities? If you answer yes, then you may require x-rays annually. If you haven't had a cavity in five years, then you can go years between x-rays.
Dentists make careful assessments about if and when patients need x-rays, carefully weighing the benefits and potential risks before deciding on any tests or courses of treatment. If x-rays are recommended, it is likely with good reason.
5. Who will need x-rays every 6 months?
Children – Many children need x-rays every six months, depending on age, because they are highly likely to develop caries and the nerve inside their teeth is much larger than an adult. This means that a very small amount of decay can cause large problems very quickly. X-rays also help monitor tooth development.
Adults with extensive restoration work, including fillings. Previous dental work indicates high risk for new decay.
Anyone who drinks sugary sodas, chocolate milk or coffee or tea with sugar – Even mildly sugary beverages create an environment in the mouth that's perfect for decay, so anyone who drinks these beverages regularly will need to have more regular x-rays.
People with periodontal (gum) disease – Periodontal treatments may need to be stepped up if there are significant or continuing signs of bone loss.
People who are taking medications that lead to dry mouth, also called xerostomia – Saliva helps keep the acid levels (pH) in the mouth stable. In a dry mouth, the pH decreases, causing the minerals in the teeth to break down, leaving them prone to caries. Medications that can decrease saliva are those prescribed for hypertension, antidepressants, antianxiety drugs, antihistamines, diuretics, narcotics, anticonvulsants and anticholinergics.
People who have dry mouth because of disease, such as Sjögren's syndrome, or because of medical treatments that damaged the salivary glands, such as radiation to the head and neck for cancer treatment.
Smokers, because smoking increases the risk of periodontal disease.
6. Should patients be worried about radiation?
This is a concern for many patients, but the amount of radiation involved in dental x-rays is minimal and patients are provided with all possible protections, including a lead-lined apron to cover portions of the body that could be exposed to x-rays. Plus, you'll only receive x-rays when necessary so as to avoid undue risk.
Many countries have adopted the International Commission on Radiological Protection (ICRP) recommendation of 20mSv per year.
Digital x-rays produce a very low level of radiation and are considered safe. The average person gets 3mSv per year, which is well below the average recommendation for a safe level. Half of this radiation comes from background radiation, such as natural radiation from radon in the air.
7. What are the types of X-rays?
There are a few different types of dental x-rays, each with different benefits. You may need multiple types of x-rays in order to create a complete assessment of your oral health.
Bite-wing x-rays are the most common, and they are so called for the plastic wing you bite on to hold the film in place while the x-ray is taken. This type of x-ray shows hard-to-reach molars and bicuspids, where cavities are most likely to form.
There are also periapical x-rays that show an entire tooth all the way to the root; panoramic x-rays that display the entire mouth, including both jaws; and a variety of other x-rays with specific purposes.
8. Is it safe for Children to have dental X-rays?
Many parents are concerned about the impact of dental x-rays on children. Children are more sensitive to radiation. However, the amount of radiation in a dental x-ray is still considered safe for a child. As children's jaws and teeth are continuously changing, it's important to keep an eye on their development. These x-rays perform many important purposes for young patients. They help dentists to:
Make sure the mouth is large enough to accommodate incoming teeth
Monitor the development of wisdom teeth
Determine whether primary teeth are loosening properly to accommodate new permanent teeth
Identify decay and gum disease early
It's important for children to visit the dentist regularly, and to get x-rays as recommended by the dentist. The exact schedule for these x-rays will vary depending on the child's individual needs.
9. How often should a child have dental x-ray films?
Since every child is unique, the need for dental x-ray films varies from child to child. Films are taken only after reviewing your child's medical and dental histories and performing a clinical examination, and only when they are likely to yield information that a visual examination cannot.
In general, children need x-rays more often than adults. Their mouths grow and change rapidly. They are more susceptible than adults to tooth decay. For children with a high risk of tooth decay, our Vancouver Dentists recommends x-ray examinations every six months to detect cavities developing between teeth. Children with a low risk of tooth decay require x-rays less frequently.
10. Why should x-ray films be taken if my child has never had a cavity?
X-ray films detect more than cavities. For example, x-rays may be needed to survey erupting teeth, diagnose bone diseases, evaluate results of an injury or plan orthodontic treatment. x-rays allow dentists to diagnose and treat conditions that cannot be detected during a clinical examination. If dental problems are found and treated early, dental care is more comfortable and affordable.
11. Is it safe for pregnant women to have dental x-rays?
Pregnant women are generally advised to avoid dental x-rays. Though the radiation is minimal, it's best to avoid all exposure when possible for the health of the developing fetus. For this reason, it's important to tell your dentist if you are or may be pregnant.
However, there are some instances where pregnant women should still have dental x-rays performed. If you have a dental emergency or are in the middle of a dental treatment plan, you may still need x-rays during your pregnancy. Discuss the issue with your dentist to determine the best way to proceed. It's crucial that you balance both your dental and prenatal health. Women with periodontal disease are at a higher risk of adverse pregnancy outcomes, so you should not neglect your teeth during pregnancy.
Your dentist can take greater precautions, such as using a leaded apron and thyroid collar, for all x-rays taken during your pregnancy if the procedure is deemed necessary. Keeping your dentist informed at all times is the best way to proceed.